Humor - Laughter is the best medicine!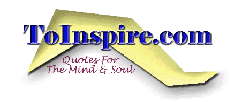 ---
Steven Wright Quotations
All those who believe in telekinesis, raise my hand.
You know how it is when you go to be the subject of a psychology experiment, and nobody else shows up, and you think maybe that's part of the experiment? I'm like that all the time.
I almost had a psychic girlfriend but she left me before we met.
OK, so what's the speed of dark?
Depression is merely anger without enthusiasm.
When everything is coming your way, you're in the wrong lane.
I went to a restaurant that serves "breakfast at any time". So I ordered French Toast during the Renaissance.
Hard work pays off in the future. Laziness pays off now.
Everyone has photographic memory. Some just don't have film.
Shin: a device for finding furniture in the dark.
Many people quit looking for work when they find a job.
I intend to live forever -- so far, so good.
Eagles may soar, but weasels don't get sucked into jet engines.
24 hours in a day... 24 beers in a case.... coincidence?
When I'm not in my right mind, my left mind gets pretty crowded.
What happens if you get scared half to death twice?
I used to have an open mind but my brains kept falling out.
I couldn't repair your brakes, so I made your horn louder.
If at first you don't succeed, destroy all evidence that you tried.
Experience is something you don't get until just after you need it.
For every action, there is an equal and opposite criticism.
No one is listening until you make a mistake.
Success always occurs in private, and failure in full view.
The colder the X-ray table, the more of your body is required to be on it.
The hardness of butter is proportional to the softness of the bread.
The severity of the itch is proportional to the reach.
To steal ideas from one person is plagiarism -- to steal from many is research.
The problem with the gene pool is that there is no lifeguard.
Monday is an awful way to spend 1/7th of your life.
The sooner you fall behind, the more time you'll have to catch up.
A clear conscience is usually the sign of a bad memory.
If you must choose between two evils, pick the one you've never tried before.
A fool and his money are soon partying.
Plan to be spontaneous tomorrow.
I live at the end of a dead end one way street. I don't know how I got there.
If you think nobody care about you, try missing a couple of payments.
I'd kill for a Nobel Peace Prize.
Bills travel through the mail at twice the speed of checks.
Borrow money from pessimists -- they don't expect it back.
Half the people you know are below average.
99 percent of lawyers give the rest a bad name.
42.7 percent of all statistics are made up on the spot.
I have a map of the United States, life size. 1 mile equals 1 mile. It's a bitch to fold it.
I like to go to art museums and name the untitled paintings... Boy With Pail... Kitten On Fire.
I had some eyeglasses. I was walking down the street when suddenly the prescription ran out.
I got food poisoning today. I don't know when I'll use it.
I put instant coffee in a microwave and almost went back in time.
My theory of evolution is that Darwin was adopted.
Curiosity killed the cat, but for a while I was a suspect.
I bought some batteries, but they weren't included.
Last night somebody broke into my apartment and replaced everything with exact duplicates... When I pointed it out to my roommate, he said, "Do I know you?
I have an existential map. It has 'You are here' written all over it.
I used to work in a fire hydrant factory. You couldn't park anywhere near the place.
It's a small world, but I wouldn't want to paint it.
You can't have everything. Where would you put it?
What's another word for Thesaurus?
It doesn't make a difference what temperature a room is, it's always room temperature.
There's a fine line between fishing and just standing on the shore like an idiot.
A friend of mine once sent me a post card with a picture of the entire planet Earth taken from space. On the back it said, "Wish you were here."

I'm moving to Mars next week, so if you have any boxes...

I went to the museum where they had all the heads and arms from the statues that are in all the other museums.

My roommate got a pet elephant. Then it got lost. It's in the apartment somewhere.

I installed a skylight in my apartment.... The people who live above me are furious!

All the plants in my house are dead -- I shot them last night. I was teasing them by watering them with ice cubes.

I have a microwave fireplace in my house... The other night I laid down in front of the fire for the evening in two minutes

I hooked up my accelerator pedal in my car to my brake lights. I hit the gas, people behind me stop, and I'm gone.

I replaced the headlights in my car with strobe lights, so it looks like I'm the only one moving.

I watched the Indy 500, and I was thinking that if they left earlier they wouldn't have to go so fast.

I had to stop driving my car for a while... the tires got dizzy.

I have an answering machine in my car. It says, "I'm home now. But leave a message and I'll call when I'm out."

A cop stopped me for speeding. He said, "Why were you going so fast?" I said, "See this thing my foot is on? It's called an accelerator. When you push down on it, it sends more gas to the engine. The whole car just takes right off. And see this thing? This steers it."

When I get real bored, I like to drive downtown and get a great parking spot, then sit in my car and count how many people ask me if I'm leaving.

You know how it is when you're walking up the stairs, and you get to the top, and you think there's one more step? I'm like that all the time.

Cross country skiing is great if you live in a small country.

I went to the bank and asked to borrow a cup of money. They said, "What for?" I said, "I'm going to buy some sugar."

I saw a bank that said "24 Hour Banking", but I don't have that much time.

I went to this restaurant last night that was set up like a big buffet in the shape of an Ouija board. You'd think about what kind of food you want, and the table would move across the floor to it.

There's a pizza place near where I live that sells only slices. in the back you can see a guy tossing a triangle in the air.

I went to a general store. They wouldn't let me buy anything specifically.

I worked in a health food store once. A guy came in and asked me, "If I melt dry ice, can I take a bath without getting wet?"

I went to a 7-11 and asked for a 2x4 and a box of 3x5's. The clerk said, "ten-four."

I was in the grocery store. I saw a sign that said "pet supplies". So I did. Then I went outside and saw a sign that said "compact cars".

I went down the street to the 24-hour grocery. When I got there, the guy was locking the front door. I said, "Hey, the sign says you're open 24 hours." He said, "Yes, but not in a row."

I love to go shopping. I love to freak out salespeople. They ask me if they can help me, and I say, "Have you got anything I'd like?" Then they ask me what size I need, and I say, "Extra medium."

I saw a small bottle of cologne and asked if it was for sale. She said, "It's free with purchase." I asked her if anyone bought anything toda

I met this wonderful girl at Macy's. She was buying clothes and I was putting Slinkies on the escalator.

There was a power outage at a department store yesterday. Twenty people were trapped on the escalators.

I bought my brother some gift-wrap for Christmas. I took it to the Gift Wrap department and told them to wrap it, but in a different print so he would know when to stop unwrapping.

For my birthday I got a humidifier and a de-humidifier... I put them in the same room and let them fight it out.

Ever notice how irons have a setting for *permanent* press? I don't get it...

I couldn't find the remote control to the remote control.

I invented the cordless extension cord.

I saw a close friend of mine the other day... He said, "Stephen, why haven't you called me?" I said, "I can't call everyone I want. My new phone has no five on it." He said, "How long have you had it?" I said, "I don't know... my calendar has no sevens on it."

I plugged my phone in where the blender used to be. I called someone. They went "Aaaaahhhh..."

Today I dialed a wrong number... The other person said, "Hello?" and I said, "Hello, could I speak to Joey?"... They said, "Uh... I don't think so... he's only 2 months old." I said, "I'll wait."

All of the people in my building are insane. The guy above me designs synthetic hairballs for ceramic cats. The lady across the hall tried to rob a department store... with a pricing gun... She said, "Give me all of the money in the vault, or I'm marking down everything in the store."

While I was gone, somebody rearranged on the furniture in my bedroom. They put it in *exactly* the same place it was. When I told my roommate, he said: "Do I know you?"

In my house there's this light switch that doesn't do anything. Every so often I would flick it on and off just to check. Yesterday, I got a call from a woman in Germany. She said, "Cut it out."

Doing a little work around the house. I put fake brick wallpaper over a real brick wall, just so I'd be the only one who knew. People come over and I'm gonna say, "Go ahead, touch it... it feels real."

In my house on the ceilings I have paintings of the rooms above... so I never have to go upstairs.

One time the power went out in my house and I had to use the flash on my camera to see my way around. I made a sandwich and took fifty pictures of my face. The neighbors thought there was lightning in my house.

Winny and I lived in a house that ran on static electricity... If you wanted to run the blender, you had to rub balloons on your head. If you wanted to cook, you had to pull off a sweater real quick.