Submissions from You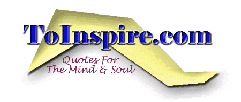 This page is for you to share quotes which have personal meaning or have provided insight in your life. Please submit a quote by emailing: quotesubmission@toinspire.com
---
~~~~~~~~~~~~~~~~~~
Catherine Pulsifer
"Sometimes, people use age as a convenient excuse. "I'm to old too start something new", or, "I couldn't learn that at my age". Other people, though, go on to acheive their greatest accomplishments in life in later years."

"Being able to see the end result, rather than just the task, eliminates obstacles, focuses your energy, and provides motivation to excel."
"Perseverance is the ability to keep going in the face of continuous challenges. It is the ability to disregard distractions and to stay focused."
"Don't let others change your life, be your own change agent and implement the changes you want! And if an unexpected change occurs in your life, find the positive in it."
~~~~~~~~~~~~~~~~~~~~~~~~~~~~~~~~~~
---
For a person who cultivates wisdom or true knowledge, the results are inner peace, satisfaction, patience, respect for others, freedom from duplicity, compassion, joyfulness, and remembrance of his spiritual identity.
---
"We are the public's servants, not the public's slaves. There's a big difference
between the two."

"I believe in life there are no rush-hours, only rushing people."

Lj T. Salceda
Radio Announcer / Producer
702 DZAS - FEBC
---
"Good can be found in every person, but sometimes the search isn't
worth it."
- Antony Gemmell
---
Leonie McLoughlin
"If yesterday has gone, and tomorrow's not come. Then all you have is to-day, so enjoy it."
"Intelligence will help you, but character is the clothing you wear each day."
"Abilities are wonderful things to have. But availability is what God is looking for."
---
"Face the future dauntlessly and with a manly heart."
Julian Tomlinson
---
"A carpenter doesn't make the lumber, he makes use of it."
Alex Zonn
---
WHAT IS YOUR BASKET.
--------------------

What ever label you put on your basket,
That the people will accept and call the basket,
If you label it a waste paper basket,
People will dump assorted rubbish in it
But if you call it a jolly good fruit basket,
People will cherish it and treat it with respect.
The world takes you at your own estimate.

Composed by Kenneth Faminu
7th May 2001.

---
Stefan Pillinger
I would like to think I love not the principle philosophy, that I could burn a million books and not bat an eyelid. However, as soon as the flame grew, I would realize the light I had missed.

In thought I put some portion of the world in jeopardy, but it is the world that jeopardizes my thought.

---
James (Jim) Dowd
"Rules are meant to provide guidance to the wise and to control the fools".
---
Karrie Huffman
Don't look back and remember me, look ahead and see me.
---
Lance Dai (Kohler WI)
Be the first to criticize yourself, then you will be the one who gets the best laugh.
When nothing else can go wrong, check your pulse.

---
Manuel Ordonez
Love is a gift.
When it is received in love,
love should never fall to the bottom of the toybox.

---
Ulrich Damm
---
Ameet Bakhai
Though many heroes are found on a battlefield, many more will die peacefully in their beds of old age having never encountered the need to reveal their greatness.

Hope is what allows you to keep going even in the face of adversity and despair. With this to sustain you - your strength will be boundless.

---
Frank X. Foglia
---
Jeffrey David Lang
There will be times in life when impossibility is felt, but then there are dreams - and dreams allow us possibility.

Ultimate failure does not come in the loss of a great goal, but in the loss of will to strive for another.
---
Ariadna X
Nothingness is the only thing truely meaningful... because it is meant to be meaningless. Too bad nothingness does not exist.

I am too young for living, that's why I'm dead.

Being a woman is hard... it is being a goddess and nothing changes so easily, so fast.

I fear perfection, I don't have it... it is always a threat

If death kissed my lips...would you miss me?
---
Brandon Hess
http://www.students.dsu.edu/hessb
Beauty hides evil and deceit holds hands with lust for no true beauty exists until the light of the soul is seen beneath the falsehood of the skin.
"Never ask if something can not be done, for impossibility is only a false limit set by those who are lack ambition for in essense, nothing is impossible. Anything can be achieved if one merely has the heart to
accomplish it. However, mankind often asks the wrong question when taking on something that has yet to be done. We should not ask if something can be done until we ask but one question...should it be done? Humanity's downfall has always been it's lack of foresight."
"Somewhere between reality and time there lies a land where all may visit, where discrimination, prejudice, death and sickness have no powers. Fairies fly through mighty forests, huge dragons perch atop mountain peaks that stretch for miles and the sun only sets when told to. Heroes are forged out
of the most unlikely souls, princesses are made out of the loneliest of ladies and one's face only adds to what is inside. Peace is what men fight for and war is overpowered by love. No one is ever too poor to travel there and all are welcome no matter their race, sex, religion or creed. However, no matter the power this realm may possess, it still depends on you to give it life. To find it, all you have to do is dream."
---
Neethan Raj
---
Dr. Jason Bostic
(http://www2.jun.alaska.edu/edtech/jason)
Our imagination always outpaces our technology. The gap between the two is the distance the creative spark must jump in order to ignite our forward momentum. {from his book: Taming the Beast - Choice and Control in the Electronic Jungle
---
Other Submissions from readers
If thou follow thy star, thou canst not fail of a glorious heaven. - Dante Alighieri
A lot of writers complain that they are exhausted after writing a book. I don't understand this; you can sit down while doing it, can't you? - Simon Vestdijk
It is not he who gains the exact point in dispute who scores most in controversy - but he who has shown the better temper. - Samuel Butler (1835-1902), English author. Samuel Butler's Notebooks (1951, p. 112).
Freedom is a far better thing than security. - Francis P. Moyer
---