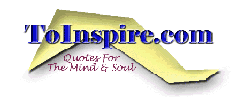 Newsletter
Click here to read about subscribing to our free newsletter!
November 4, 1999



Dear Subscriber,

Hello and hope your week has gone well. Enjoy the weekend! Please take time to read each of the quotes below.

Our greatest natural resource is the minds of our children. - Walt Disney

Only when we have something to value, will we have something to evaluate… and we cannot value something that we cannot share, exchange and examine.

-Lee Shulman

Life is a risk. Winners take more risks than losers. That is why they win so much. Necessarily then, winners lose more than losers, but they are playing so often that their wins add up.

-Author unknown (submitted by Ravindra)

Every production of genius must be the production of enthusiasm.

-Benjamin Disraeli

The secret of my vigor and activity is that I have managed to have a lot of fun.

-Lowell Thomas

My father was an amazing man. The older I got, the smarter he got.

-Mark Twain

Please email comments or suggestions for our newsletter or website to andy@toinspire.com.


Your ToInspire Team
Andy, Holly, Jack and Maui
http://www.toinspire.com

Have A Great Week!!!
Previous newsletters: 7/8/99, 7/15/99, 7/22/99, 7/29/99, 8/5/99, 8/12/99, 8/19/99, 8/26/99, 9/2/99, 9/9/99, 9/16/99, 9/23/99, 9/30/99, 10/8/99, 10/15/99, 10/18/99, 10/21/99, 10/25/99, 10/28/99, 11/1/99