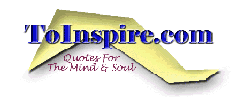 Newsletter
Click here to read about subscribing to our free newsletter!
November 15, 1999


Dear Subscriber,

Happy Monday! Hope you are enjoying your week so far. Almost time for a Thanksgiving Holiday!

Please enjoy the following quotes:


You have to accept whatever comes, and the only important thing is that you meet it with courage and with the best that you have to give. - Eleanor Roosevelt

True courage is to do without witnesses everything that one is capable of doing before all the world. - La Rochefoucauld

Behold the turtle. He only makes progress when he sticks his neck out. - James Bryant Conant

Not hammer strokes, but dance of the water sings the peebles into perfection. - Rabindranath Tagore

When love and skill work together expect a masterpiece. - John Ruskin


Sincerely,

Your ToInspire Team
Andy, Holly, Jack and Maui
http://www.toinspire.com
Have A Great Week!!!
Previous newsletters: 7/8/99, 7/15/99, 7/22/99, 7/29/99, 8/5/99, 8/12/99, 8/19/99, 8/26/99, 9/2/99, 9/9/99, 9/16/99, 9/23/99, 9/30/99, 10/8/99, 10/15/99, 10/18/99, 10/21/99, 10/25/99, 10/28/99, 11/1/99, 11/4/99, 11/8/99, 11/11/99