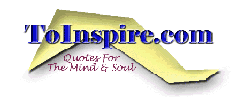 Newsletter
Click here to read about subscribing to our free newsletter!
November 18, 1999



Dear Subscriber,

Hello and we hope that all is well with you! Please take time to read and reflect on the quotes below:

Dreams are illustrations from the book your soul is writing about you.

-Marsha Norman

Still, there is a calm, pure harmony, and music inside of me.

-Vincent van Gogh

Men are not worried by things that happen, but by their thoughts about those things.

-Epictetus

Between whom there is hearty truth, there is love.

-Henry David Thoreau

I think and think for months and years. Ninety-nine times, the conclusion is false. The hundredth time I am right.

-Albert Einstein

Your ToInspire Team

: Andy, Holly, Jack and Maui


Have A Great Weekend!!!
Previous newsletters: 7/8/99, 7/15/99, 7/22/99, 7/29/99, 8/5/99, 8/12/99, 8/19/99, 8/26/99, 9/2/99, 9/9/99, 9/16/99, 9/23/99, 9/30/99, 10/8/99, 10/15/99, 10/18/99, 10/21/99, 10/25/99, 10/28/99, 11/1/99, 11/4/99, 11/8/99, 11/11/99, 11/15/99