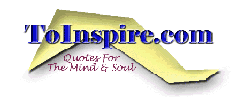 Newsletter
Click here to read about subscribing to our free newsletter!
December 6, 1999

Dear Subscriber,

Hello! We hope December is going well for you! We saw our first little bit of snow yesterday!

Please take time to enjoy each of the quotes below:


Strive to be like a well-regulated watch, of pure gold, with open face, busy hands, and full of good works.
-David C. Newquist

I am not bound to win, but I am bound to be true. I am not bound to succeed, but I am bound to live up to what light I have.
-Abraham Lincoln

This above all: to thine own self be true... thou canst not then be false to any man.
-Shakespeare

To trust yourself to test your limits. That is the courage to succeed.
-Bernard Edmonds

When we do the best we can, we never know what miracle is wrought in our life, or in the life of another.
-Helen Keller


Your ToInspire Team

: Andy, Holly, Jack and Maui


Have A Great Week!!!
Previous newsletters: 7/8/99, 7/15/99, 7/22/99, 7/29/99, 8/5/99, 8/12/99, 8/19/99, 8/26/99, 9/2/99, 9/9/99, 9/16/99, 9/23/99, 9/30/99, 10/8/99, 10/15/99, 10/18/99, 10/21/99, 10/25/99, 10/28/99, 11/1/99, 11/4/99, 11/8/99, 11/11/99, 11/15/99, 11/18/99, 11/22/99, 11/25/99, 11/29/99, 12/2/99