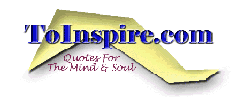 Newsletter
Click here to read about subscribing to our free newsletter!
December 9, 1999

Dear Subscriber,

Hello and we hope all is well with you!
Please take the time to enjoy and think about each of the quotes below:


Love cures people - both the ones who give it and the ones who receive it.
-Karl Menninger

Words can sometimes, in moments of grace, attain the quality of deeds.
-Elie Wiesel

Truth is the secret of eloquence and of virtue, the basis of moral authority; it is the highest summit of art and of life.
-Henri Frederic Amiel

The shortest and best way to live with honor in the world is to be in reality what we would appear to be.
-Socrates

Above all else, guard your heart, for it is the wellspring of life.
-The Bible, Proverbs 4:23 NIV


Your ToInspire Team

: Andy, Holly, Jack and Maui


Have A Great Week!!!
Previous newsletters: 7/8/99, 7/15/99, 7/22/99, 7/29/99, 8/5/99, 8/12/99, 8/19/99, 8/26/99, 9/2/99, 9/9/99, 9/16/99, 9/23/99, 9/30/99, 10/8/99, 10/15/99, 10/18/99, 10/21/99, 10/25/99, 10/28/99, 11/1/99, 11/4/99, 11/8/99, 11/11/99, 11/15/99, 11/18/99, 11/22/99, 11/25/99, 11/29/99, 12/2/99, 12/6/99