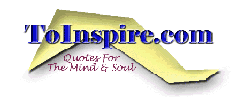 Newsletter
Click here to read about subscribing to our free newsletter!
December 13, 1999

Dear Subscriber,

We hope that your week has been happy and productive!

Happy Holidays!

Please take time to enjoy the quotes below:


It is only with the heart that one can see rightly. What is essential is invisible to the eye.
-Antoine de Saint-Exupery

If at first you don't succeed, Try, try again; Then your courage should appear; For, if you will persevere, You will conquer; never fear; Try, try again.
-McGuffey's Second Reader

Face your deficiencies and acknowledge them; but do not let them master you. Let them teach you patience, sweetness, insight.
-Helen Keller

What you promise today must be renewed and redecided tomorrow and each day that stretches out before you.
-Arthur Gordon

True courage is a result of reasoning. A brave mind is always impregnable.
-Jeremy Collier


Your ToInspire Team

: Andy, Holly, Jack and Maui


Have A Great Week!!!
Previous newsletters: 7/8/99, 7/15/99, 7/22/99, 7/29/99, 8/5/99, 8/12/99, 8/19/99, 8/26/99, 9/2/99, 9/9/99, 9/16/99, 9/23/99, 9/30/99, 10/8/99, 10/15/99, 10/18/99, 10/21/99, 10/25/99, 10/28/99, 11/1/99, 11/4/99, 11/8/99, 11/11/99, 11/15/99, 11/18/99, 11/22/99, 11/25/99, 11/29/99, 12/2/99, 12/6/99, 12/9/99