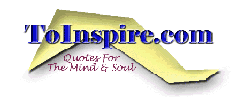 Newsletter
Click here to read about subscribing to our free newsletter!
December 20, 1999

Dear Subscriber,

Hello! Hope that your holiday shopping is close to completion!

Please take time to think about the quotes below:


He is rich according to what he is - not according to what he has.
-Henry Ward Beecher

Mingle a little folly with your wisdom; a little nonsense now and then is pleasant.
-Horace

Think of these things, whence you came, where you are going, and to whom you must account.
-Benjamin Franklin

Sit down to write what you have thought, and not to think about what you shall write.
-William Cobbett

All you earnest young men out to save the world... please, have a laugh.
-Reinhold Niebuhr


Your ToInspire Team

: Andy, Holly, Jack and Maui


Have A Great Week!!!
Previous newsletters: 7/8/99, 7/15/99, 7/22/99, 7/29/99, 8/5/99, 8/12/99, 8/19/99, 8/26/99, 9/2/99, 9/9/99, 9/16/99, 9/23/99, 9/30/99, 10/8/99, 10/15/99, 10/18/99, 10/21/99, 10/25/99, 10/28/99, 11/1/99, 11/4/99, 11/8/99, 11/11/99, 11/15/99, 11/18/99, 11/22/99, 11/25/99, 11/29/99, 12/2/99, 12/6/99, 12/9/99, 12/13/99, 12/16/99