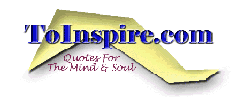 Newsletter
Click here to read about subscribing to our free newsletter!
December 23, 1999

Dear Subscriber,

Hello! We hope this holiday season that you enjoy your time with family and friends, celebrating the joys and happiness of life!

We have put together a special collection of inspiring thoughts for Christmas on our main page. Please visit!

Take time to read and think about each of the quotations below:


Why not go out on a limb? Isn't that where the fruit is?
-Frank Scully

Hold a true friend with both hands.
-Nigerian proverb

Home is the one place in all this world where hearts are sure of each other. It is the place of confidence. It is the spot where expressions of tenderness gush out without any dread of ridicule.
-Frederick W. Robertson

God grant you the light in Christmas, which is faith; the warmth of Christmas, which is love; the radiance of Christmas, which is purity.
-Wilda English


Your ToInspire Team

: Andy, Holly, Jack and Maui


Have A Great Week!!!
Previous newsletters: 7/8/99, 7/15/99, 7/22/99, 7/29/99, 8/5/99, 8/12/99, 8/19/99, 8/26/99, 9/2/99, 9/9/99, 9/16/99, 9/23/99, 9/30/99, 10/8/99, 10/15/99, 10/18/99, 10/21/99, 10/25/99, 10/28/99, 11/1/99, 11/4/99, 11/8/99, 11/11/99, 11/15/99, 11/18/99, 11/22/99, 11/25/99, 11/29/99, 12/2/99, 12/6/99, 12/9/99, 12/13/99, 12/16/99, 12/20/99