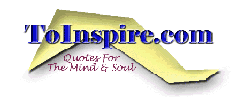 Newsletter
Click here to read about subscribing to our free newsletter!
December 27, 1999

Dear Subscriber,

We hope that your holidays have been happy! The year 2000 is just around the corner!

This week we have been inspired to add a new feature on our main webpage, Pets and their Quotes. Please submit a photo of your pet and a quote to go along (or we'll pick one out with your approval!)

Take time to enjoy each of the quotes below:


A man who seeks truth and loves it must be reckoned precious to any human society.
-Frederick the Great

Be not afraid of life. Believe that life is worth living and your belief will help create the fact.
-William James

You must not only aim aright, but draw the bow with all your might.
-Henry David Thoreau

Resolved - never to do anything which I should be afraid to do if it were the last hour of my life.
-Jonathan Edwards

Let the burden never be so heavy; love makes it light.
-Robert Burton



Your ToInspire Team

: Andy, Holly, Jack and Maui


Have A Great Week!!!
Previous newsletters: 7/8/99, 7/15/99, 7/22/99, 7/29/99, 8/5/99, 8/12/99, 8/19/99, 8/26/99, 9/2/99, 9/9/99, 9/16/99, 9/23/99, 9/30/99, 10/8/99, 10/15/99, 10/18/99, 10/21/99, 10/25/99, 10/28/99, 11/1/99, 11/4/99, 11/8/99, 11/11/99, 11/15/99, 11/18/99, 11/22/99, 11/25/99, 11/29/99, 12/2/99, 12/6/99, 12/9/99, 12/13/99, 12/16/99, 12/20/99, 12/23/99