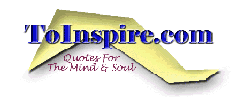 Newsletter
Click here to read about subscribing to our free newsletter!
December 30, 1999

Dear Subscriber,

Hello! May your New Year's celebration be Happy and Safe!

Please take time to enjoy the quotes below (the last before the year 2000!)


Seeing's believing, but the feeling's the truth.
-Thomas Fuller

Take rest. A field that has rested gives a beautiful crop.
-Ovid

The clearest sign of wisdom is continued cheerfulness.
-Montaigne

The great pleasure in life is doing what people say you cannot do.
-Walter Bagehot

If you instill in your child a love of the outdoors and an appreciation of nature, you will have given him a treasure no one can take away.
-Ted Trueblood


Happy New Year!


Your ToInspire Team

: Andy, Holly, Jack and Maui


Have A Great Week!!!
Previous newsletters: 7/8/99, 7/15/99, 7/22/99, 7/29/99, 8/5/99, 8/12/99, 8/19/99, 8/26/99, 9/2/99, 9/9/99, 9/16/99, 9/23/99, 9/30/99, 10/8/99, 10/15/99, 10/18/99, 10/21/99, 10/25/99, 10/28/99, 11/1/99, 11/4/99, 11/8/99, 11/11/99, 11/15/99, 11/18/99, 11/22/99, 11/25/99, 11/29/99, 12/2/99, 12/6/99, 12/9/99, 12/13/99, 12/16/99, 12/20/99, 12/23/99, 12/27/99