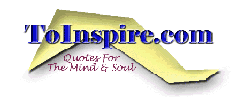 Newsletter
Click here to read about subscribing to our free newsletter!
January 6, 2000

Dear Subscriber,

Happy Year 2000!

Our exciting new feature is "Pets and their Quotes." Please send us a picture of your pet (attach as a jpg or gif file) and we'll post the picture with a quote of your choosing (or we'll pick one with your approval!) Our first pet is already displayed!

Please take time to enjoy each of the quotes below:


Sow an act and you reap a habit. Sow a habit and you reap character. Sow character and you reap destiny.
-Charles Reade

Leaders aren't born, they are made. And they are made just like anything else, through hard work. And that's the price we'll have to pay to achieve that goal, or any goal.
-Vince Lombardi

If you have any doubts that we live in a society controlled by men, try reading down the index of contributors to a volume of quotations, looking for women's names.
-Elaine Gill

If I have seen farther, it is by standing on the shoulders of giants.
-Sir Isaac Newton

The eye sees only what the mind is prepared to comprehend.
-Robertson Davies


Your ToInspire Team

: Andy, Holly, Jack and Maui


Have A Great Week!!!
Previous newsletters: 7/8/99, 7/15/99, 7/22/99, 7/29/99, 8/5/99, 8/12/99, 8/19/99, 8/26/99, 9/2/99, 9/9/99, 9/16/99, 9/23/99, 9/30/99, 10/8/99, 10/15/99, 10/18/99, 10/21/99, 10/25/99, 10/28/99, 11/1/99, 11/4/99, 11/8/99, 11/11/99, 11/15/99, 11/18/99, 11/22/99, 11/25/99, 11/29/99, 12/2/99, 12/6/99, 12/9/99, 12/13/99, 12/16/99, 12/20/99, 12/23/99, 12/27/99, 12/30/99, 1/3/00