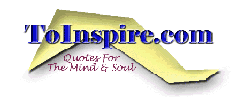 Newsletter
Click here to read about subscribing to our free newsletter!
January 10, 2000

Dear Subscriber,

We hope that all is well with you!

Our new page, "Pets and their Quotes," now has 2 cats and 4 dogs on display! Take a look and send us your animal pictures (gif or jpg files): www.toinspire.com/pets2.html

Please take time to enjoy the quotes below:


It is often just as sacred to laugh as it is to pray.
-Charles R. Swindoll

Things never go so well that one should have no fear; and never so ill that one should have no hope.
-Turkish proverb

Teachers open the door, but you must enter by yourself.
-Chinese proverb

Don't bother to be better than your contemporaries or predecessors. Try to be better than yourself.
-William Faulkner

To the youngsters of today, I say believe in the future.
-Walt Disney



Your ToInspire Team

: Andy, Holly, Jack and Maui


Have A Great Week!!!
Previous newsletters: 7/8/99, 7/15/99, 7/22/99, 7/29/99, 8/5/99, 8/12/99, 8/19/99, 8/26/99, 9/2/99, 9/9/99, 9/16/99, 9/23/99, 9/30/99, 10/8/99, 10/15/99, 10/18/99, 10/21/99, 10/25/99, 10/28/99, 11/1/99, 11/4/99, 11/8/99, 11/11/99, 11/15/99, 11/18/99, 11/22/99, 11/25/99, 11/29/99, 12/2/99, 12/6/99, 12/9/99, 12/13/99, 12/16/99, 12/20/99, 12/23/99, 12/27/99, 12/30/99, 1/3/00, 1/6/00