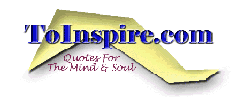 Newsletter
Click here to read about subscribing to our free newsletter!
January 13, 2000

Dear Subscriber,

Hello! We hope your week is going well!

Our new page, Pets and their Quotes, has attracted 5 dogs and 2 cats!!
Please continue sending us your pet pictures!

Take time and enjoy each of the quotes below:


Only those who risk going too far can possibly find out how far they can go.
-T.S. Eliot

Each time a man stands up for an ideal, or acts to improve the lot of others, or strikes out against injustice, he sends forth a tiny ripple of hope.
-Robert F. Kennedy

People of character don't allow the environment to dictate their style.
-Lucille Kallen

Never doubt that a small group of committed citizens can change the world, indeed it is the only thing that ever has.
-Margaret Mead

You will have courage because you will have hope. You will take your time, and rest in safety.
-The Bible, Job 11:18 TLB



Your ToInspire Team

: Andy, Holly, Jack and Maui


Have A Great Week!!!
Previous newsletters: 7/8/99, 7/15/99, 7/22/99, 7/29/99, 8/5/99, 8/12/99, 8/19/99, 8/26/99, 9/2/99, 9/9/99, 9/16/99, 9/23/99, 9/30/99, 10/8/99, 10/15/99, 10/18/99, 10/21/99, 10/25/99, 10/28/99, 11/1/99, 11/4/99, 11/8/99, 11/11/99, 11/15/99, 11/18/99, 11/22/99, 11/25/99, 11/29/99, 12/2/99, 12/6/99, 12/9/99, 12/13/99, 12/16/99, 12/20/99, 12/23/99, 12/27/99, 12/30/99, 1/3/00, 1/6/00, 1/10/00