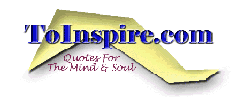 Newsletter
Click here to read about subscribing to our free newsletter!
January 17, 2000

Dear Subscriber,

Try this week's quote challenge!
It's a little more difficult than last week when 42 people correctly answered!!

Please take time to enjoy the quotes below:


Life is what happens while you are busy making other plans.
-John Lennon

Few will have the greatness to bend history itself; but each of us can work to change a small portion of events, and in the total of all those acts will be written the history of this generation.
-Robert F. Kennedy

The difference between what we do and what we are capable of doing would suffice to solve most of the world's problems.
-Mahatma Gandhi

Determine that the thing can and shall be done, and then we shall find the way.
-Abraham Lincoln

The ultimate measure of a man is not where he stands in moments of comfort and convenience, but where he stands at times of challenge and controversy.
-Dr. Martin Luther King Jr.



Your ToInspire Team

: Andy, Holly, Jack and Maui


Have A Great Week!!!
Previous newsletters: 7/8/99, 7/15/99, 7/22/99, 7/29/99, 8/5/99, 8/12/99, 8/19/99, 8/26/99, 9/2/99, 9/9/99, 9/16/99, 9/23/99, 9/30/99, 10/8/99, 10/15/99, 10/18/99, 10/21/99, 10/25/99, 10/28/99, 11/1/99, 11/4/99, 11/8/99, 11/11/99, 11/15/99, 11/18/99, 11/22/99, 11/25/99, 11/29/99, 12/2/99, 12/6/99, 12/9/99, 12/13/99, 12/16/99, 12/20/99, 12/23/99, 12/27/99, 12/30/99, 1/3/00, 1/6/00, 1/10/00, 1/13/00