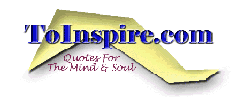 Newsletter
Click here to read about subscribing to our free newsletter!
February 17, 2000

Dear Subscriber,

Hello! We hope that your week has gone well!

Please take a few moments to think about and enjoy each of the quotes below:


Justice is truth in action.
-Benjamin Disraeli

Raise new questions, new possibilities, regard old problems from a new angle...
-Albert Einstein

It is the character of a brave and resolute man not to be ruffled by adversity and not to desert his post.
-Cicero

You are responsible to do the best you can with what you've got for as long as you're able.
-Charles R. Swindoll

With firmness in the right as God gives us to see the right, let us finish the work we are in... to do all which may achieve and cherish a just and lasting peace among ourselves.
-Abraham Lincoln


Please refer our service to your friends and family. They may subscribe at http://www.toinspire.com/subscribe2.html

Our book recommendation is 'The Notebook,' by Nicholas Sparks. Simply written and hard to put down, the story is of a young man and woman who find love for a lifetime! Purchase this book at:

http://www.amazon.com/exec/obidos/ASIN/0446520802/toinspinc


Your ToInspire Team

: Andy, Holly, Jack and Maui


Have A Great Week!!!
Previous newsletters: 7/8/99, 7/15/99, 7/22/99, 7/29/99, 8/5/99, 8/12/99, 8/19/99, 8/26/99, 9/2/99, 9/9/99, 9/16/99, 9/23/99, 9/30/99, 10/8/99, 10/15/99, 10/18/99, 10/21/99, 10/25/99, 10/28/99, 11/1/99, 11/4/99, 11/8/99, 11/11/99, 11/15/99, 11/18/99, 11/22/99, 11/25/99, 11/29/99, 12/2/99, 12/6/99, 12/9/99, 12/13/99, 12/16/99, 12/20/99, 12/23/99, 12/27/99, 12/30/99, 1/3/00, 1/6/00, 1/10/00, 1/13/00, 1/17/00