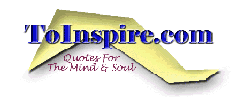 Newsletter
Click here to read about subscribing to our free newsletter!
February 24, 2000

Dear Subscriber,

We are beginning to collect your inspirational stories, poems and quotes to publish on our site. Please share these with us and others! Mail to stories@toinspire.com

Please take time to think about each of the quotes below:


Imagination is more important than knowledge.
-Albert Einstein, from 'On Science'

One must learn by doing the thing; though you think you know it, you have no certainty until you try.
-Sophocles

Dost thou love life? Then do not squander time, for that's the stuff life is made of.
-Benjamin Franklin

We need the tonic of wilderness.
-Henry David Thoreau

All love is sweet, given or returned. Common as light is love, and its familiar voice wearies not ever... They who inspire it most are fortunate, as I am now; but those who feel it most are happier still.
-Percy Shelley



Have a wonderful weekend!!


Please refer us to your friends and family: They may sign up at:
http://www.toinspire.com/subscribe2.html


Your ToInspire Team

: Andy, Holly, Jack and Maui


Have A Great Week!!!
Previous newsletters: 7/8/99, 7/15/99, 7/22/99, 7/29/99, 8/5/99, 8/12/99, 8/19/99, 8/26/99, 9/2/99, 9/9/99, 9/16/99, 9/23/99, 9/30/99, 10/8/99, 10/15/99, 10/18/99, 10/21/99, 10/25/99, 10/28/99, 11/1/99, 11/4/99, 11/8/99, 11/11/99, 11/15/99, 11/18/99, 11/22/99, 11/25/99, 11/29/99, 12/2/99, 12/6/99, 12/9/99, 12/13/99, 12/16/99, 12/20/99, 12/23/99, 12/27/99, 12/30/99, 1/3/00, 1/6/00, 1/10/00, 1/13/00, 1/17/00, 2/17/00