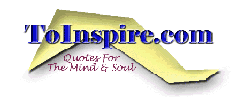 Newsletter
Click here to read about subscribing to our free newsletter!
March 16, 2000

Dear Subscriber,

Hello and Happy St. Patrick's Day! Don't forget to wear green!

Please take time to enjoy each of the quotes below:


Welcome, O life! I go to encounter for the millionth time the reality of
experience and to forge in the smithy of my soul the uncreated conscience
of my race.
-James Joyce

Trust me, but look to thyself.
-Irish Proverb

O Ireland, isn't it grand you look -
Like a bride in her rich adornin'?
And with all the pent-up love of my heart
I bid you the top o' the mornin'!
-John Locke

Seeing's believing - but feeling is God's own truth.
-Irish Proverb

And pluck till time and times are done
The silver apples of the moon,
The golden apples of the sun.
-William Butler Yeats


http://www.toinspire.com/storiesyousubmit2.html
Short stories, essays, poems, inspirational writings...
Enjoy all of these! Send your creative writings to: stories@toinspire.com

Please refer us to your family and friends! They may subscribe at
http://www.toinspire.com/subscribe2.html



Your ToInspire Team

: Andy, Holly, Jack and Maui


Have A Great Week!!!
Previous newsletters: 7/8/99, 7/15/99, 7/22/99, 7/29/99, 8/5/99, 8/12/99, 8/19/99, 8/26/99, 9/2/99, 9/9/99, 9/16/99, 9/23/99, 9/30/99, 10/8/99, 10/15/99, 10/18/99, 10/21/99, 10/25/99, 10/28/99, 11/1/99, 11/4/99, 11/8/99, 11/11/99, 11/15/99, 11/18/99, 11/22/99, 11/25/99, 11/29/99, 12/2/99, 12/6/99, 12/9/99, 12/13/99, 12/16/99, 12/20/99, 12/23/99, 12/27/99, 12/30/99, 1/3/00, 1/6/00, 1/10/00, 1/13/00, 1/17/00, 2/17/00, 2/24/00