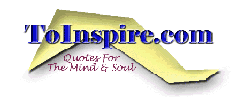 Newsletter
Click here to read about subscribing to our free newsletter!
April 14, 2000

Dear Subscriber,

In response to subscriber requests, this week we have added quotations to two quote categories: Women and Native Americans.

Please take time to read and think about each of the quotations below:


Brevity is the soul of wit.
-William Shakespeare

Always do right. This will gratify some people and astonish the rest.
-Mark Twain

To travel hopefully is a better thing then to arrive, and true success is to labor.
-Robert Louis Stevenson

A child's life is a piece of paper on which every passerby leaves a mark.
-Chinese Proverb

Piglet sidled up to Pooh from behind.
"Pooh!" he whispered.
"Yes, Piglet?"
"Nothing," said Piglet, taking Pooh's paw. "I just wanted to be sure of you."
-A.A. Milne


Have a great weekend!!

Your ToInspire Team
Andy, Holly, Jack and Maui
http://www.toinspire.com


Our book recommendation is 'The Heart Aroused: Poetry and the Preservation of the Soul in Corporate America' by David Whyte. This powerful, reflective collection of short essays will inspire you to examine yourself! Read more about this book and purchase through us at:
http://www.amazon.com/exec/obidos/ASIN/0385484186/toinspinc

Please refer us to your family and friends! They may subscribe at http://www.toinspire.com/subscribe2.html

http://www.toinspire.com/storiesyousubmit2.html
Short stories, essays, poems, inspirational writings...
Enjoy all of these! Send your creative writings to: stories@toinspire.com


Your ToInspire Team

: Andy, Holly, Jack and Maui


Have A Great Week!!!
Examples of previous newsletters: 7/8/99, 7/15/99, 7/22/99, 7/29/99, 8/5/99, 8/12/99, 8/19/99, 8/26/99, 9/2/99, 9/9/99, 9/16/99, 9/23/99, 9/30/99, 10/8/99, 10/15/99, 10/18/99, 10/21/99, 10/25/99, 10/28/99, 11/1/99, 11/4/99, 11/8/99, 11/11/99, 11/15/99, 11/18/99, 11/22/99, 11/25/99, 11/29/99, 12/2/99, 12/6/99, 12/9/99, 12/13/99, 12/16/99, 12/20/99, 12/23/99, 12/27/99, 12/30/99, 1/3/00, 1/6/00, 1/10/00, 1/13/00, 1/17/00, 2/17/00, 2/24/00, 3/16/00