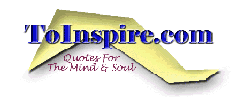 Newsletter
Click here to read about subscribing to our free newsletter!
April 27, 2007
Dear Friends, Hello and we hope that you have a great weekend!! Featured on our website, ToInspire.com, are two new writings by Lance Smith. Please enjoy these thoughtful, reflective, inspirational pieces.
To email us, please use toinspiretoday@yahoo.com. Below are 5 quotations to ponder:
All adverse and depressing influences can be overcome, not
by fighting, but by rising above them.
-
Cicero

We can't solve problems by using the same kind of thinking
we used when we created them.
-

Albert Einstein
There are three types of people in this world: those who make things
happen, those who watch things happen and those who wonder what
happened. We all have a choice. You can decide which type of person you
want to be. I have always chosen to be in the first group.

- Mary Kay Ash
Mastering others is strength. Mastering yourself is true power.

- Tao Te Ching
He who reins within himself and rules passions, desires, and fears is
more than a king. (from 'Paradise Lost')

- John Milton
Sincerely,
Your ToInspire Team
Andy, Holly, Parker, Carson, Grace
Examples of previous newsletters: 7/8/99, 7/15/99, 7/22/99, 7/29/99, 8/5/99, 8/12/99, 8/19/99, 8/26/99, 9/2/99, 9/9/99, 9/16/99, 9/23/99, 9/30/99, 10/8/99, 10/15/99, 10/18/99, 10/21/99, 10/25/99, 10/28/99, 11/1/99, 11/4/99, 11/8/99, 11/11/99, 11/15/99, 11/18/99, 11/22/99, 11/25/99, 11/29/99, 12/2/99, 12/6/99, 12/9/99, 12/13/99, 12/16/99, 12/20/99, 12/23/99, 12/27/99, 12/30/99, 1/3/00, 1/6/00, 1/10/00, 1/13/00, 1/17/00, 2/17/00, 2/24/00, 3/16/00, 4/14/00